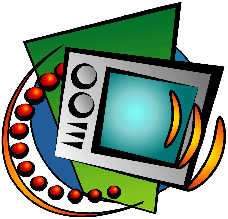 TVLit 101
(Updated 11-13-00)
(Problems? Try my main site at Skeeter63.org)
This is TVLit 101 (please check your schedules to make sure you're in the right place), and I'm your host, "Professor" Witherspoon. I'm reluctant to use the word "instructor" because this class is not about learning, but about experiencing, exploring, and enjoying the wonderful world of fan fiction. I have taken the liberty of authoring the texts for this course (see Recommended Reading for other fine examples of TV-based literature), and while none of the texts are required reading, I hope you will take time to sample the offerings at your leisure. If you have any questions or wish to discuss a certain text, you may contact me at any point. The following syllabus will be updated at regular intervals. Enjoy!
---
Please Note:

*Disclaimer: All characters, locales, and assorted inventions that you've seen on these various shows belong to the writers, producers, networks, production companies, etc. of each individual show. The only parts that belong to me are occasional story plots and a few side characters.

*All texts are rated TV14: Violence and Language. Some are TVG (or even milder) but the course as a whole is for those mature in television viewing.

Due to longer stories crying to be written, I'm not going to posting as often as I have been. Wanna know when I update?
---
I won some awards! The good folk over at Casade Times had a vote and honored me with the following awards: Best AU Writer, Best Series Writer, and Best Good Male Original Fictional Character (Adam Black). I thank you, but Adam's sulking-- Best *GOOD* character. There goes his reputation. (grin)

---

What have I been doing in my long absence? Working behind and in front of the scenes at Skeeter Press. Come have a look, maybe make an order. We have two new zines coming out for Halloween, or any other night when you feel the need for a shiver or two. Unsleeping by Martha Taylor is available on the 'net, but this polished zine version has illustrations by her brother. And Cascade Beyond The Veil is an anthology of six stories written by various authors (including myself!). Check these two latest zines and the others at Skeeter Press. (http://www.skeeter63.org/zines). ***Psst--I'll even let you borrow my nightlight if you need it.
---
Looking for something on the net? I just found this metasearch engine that's given me info I hadn't discovered before. Thought I'd put it right here on my page so I'd remember where it was. Give it a try. Just type in what you're looking for and hit the search button.


WHAT'S NEW
(The Last Ten Additions)
HL: Becoming I: Wizard, Warrior, Watcher, Witch (RS #6A) (Added 11-13-00)- Methos tracks his "father", and Cassandra arrives with a prophecy. 44K
TS: Mr. Sandburg's Wild Ride (Added 10-31-00)- Blair's first Halloween with Jim. 10K
TS: The Hunter (Added 10-31-00)- A Hunter from another planet targets Jim and Blair. 5K
TS: Rain (Added 10-20-00)- Sometimes the heroes don't walk away unscathed. 12K WARNING: This is a dark, depressive piece.
HL: What Lies Within (RS #5) (Added 08-01-00)- Methos remembers more of his early life and confronts his demon. 70K
XO: Circle (Added 07-01-00)- What's the connection between Jim, Mulder, and a certain Cigarette Smoking Man? 310K
TS: A Sense Of Peace (AR #8) (Added 06-19-00)- After all the recent angst, the boys take a vacation. 37K
TS: They Know (Added 06-09-00)- Simon's thoughts as he waits for news about his best team. 12K
HL: Memory Rut (RS #4) (Added 05-22-00)- Methos shares certain truths with Mac. 40K
HL: Boats Against The Current (RS #3) (Added 04-04-00)- Mac signs up Adam for the Faculty Talent Show, and Hunters search for the mythical Methos. 69K
---
SYLLABUS
This is a list of every fanfic I've ever written in order of posting dates. This is helpful if you're just surveying the course. If you're trying to follow a particular fandom or series, see below.
Texts created for TVLit 101currently involve the following shows: Highlander: The Series, La Femme Nikita, and The Sentinel, plus Crossovers with Early Edition; Friday, The 13th: The Series; Highlander: The Series; Homicide: Life On The Streets; Kung Fu: The Legend Continues; La Femme Nikita; Millennium; and the X-Files. Check this section to find the stories indexed by their fandom.
I have a number of series, some which have to be read in order and others which are merely linked by theme or design.
The internet has become the Library of Congress of fan fiction (for international visitors, the U.S. Library of Congress has a copy of just about everything ever printed). My list is small, but it should get you headed in the right direction on the information superhighway.
---
This message board is open to anyone wanting to discuss one of the TVLit 101 texts, someone's else's texts, one of the fandoms, television in general, the world as a whole, etc. All I ask is that you keep it clean; this is NOT and NC-17 site. Do NOT make me have to get out my eraser! :-) Have fun with it. It's the perfect way to pass notes in class.
Of course, you can always contact me privately, D.L. Witherspoon(dlspoon@skeeter63.org). I used to promise I'd write everyone back, but that just led to guilt upon guilt upon guilt when I failed to do so. So, this time I will merely assure each and everyone of you that if you write to me, I will read your letter, cherish it if it's praise, consider it if it's a suggestion, ponder it if it's useful criticism, or toss it if it's a flame.
P.S. Please feed the writer. It's her ego that keeps her at the keyboard. :-)
---
The Playground
I always missed having recess after I left elementary school, and no, gym was not a suitable replacement. :-) Below are links to a couple of trivia games which change on a weekly basis. Tell me if you like them, or it they are a total waste. Also, if you have some ideas about other "fun" items, pass them on. WARNING: You must have JAVA up and running to play these!
Classic Trivia- Generic, all-around trivia questions.
Entertainment Trivia- Is Hollywood your expertise? Give these questions a try.
---
Comments? Email D.L. Witherspoon (dlspoon@skeeter63.org). Thanks for dropping by! You are visitor # since January 1, 2000.
---
Home | By Fandom | By Date | By Series | Links | Chalk Board | Email Me
---